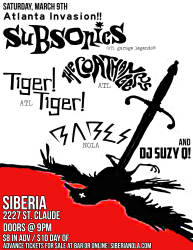 Subsonics | The Coathangers | Tiger! Tiger! | Babes | DJ Suzy Q
New Orleans, LA
Time: 10:00pm Day: Saturday Doors: 9:00pm Ages: 18+ Ages Price: $8
This Event Has Ended
Atlanta invades NOLA!!!

SUBSONICS!!!
*** [Atlanta Legends]****
SUBSONICS (with members of Man? or Astroman?, and what could be Lou Reed's bastard son)
have descended again upon the denizens of the steamy rock'n'roll jungle with their first album in seven years.
They have been heralded as the best band in Atlanta, but fellow Georgians The Black Lips and for good reason.
Previous works by this beatnik, noir-punk careen machine have left indelible marks on the psyche of
big-bam-boom-shang-a-lang rockers all over the world during their nearly two-decade tenure. Melodies echo
in the catacombs of America's soul and ring throughout with a childish enthusiasm, like a funky delinquent's budget bubblegum album.
What we really have here is an obsessive, detached drop-in to an after-hours opium den, where Super-8 movies
are projected onto a soiled sheet, and the soundtrack is undeniably SUBSONICS.

https://www.facebook.com/SubsonicsATL?fref=ts

THE COATHANGERS!!!!!!!
******(Suicide Squeeze Records)**********
(Atlanta, GA's reigning garage rock daughters!!)
http://thecoathangers.tumblr.com/

Tiger! Tiger!
*** [Chicken Ranch Records]****
Tiger! Tiger! is like a party; a murder mystery party where Richard Hell is spinning on the decks,
the host is a little tipsy and armed with a switchblade.. Working at the crossroads of garage rock, punk
and R&B, Tiger! Tiger! are a catty and cool hubbub of retro rock and roll rhythms that dive headlong into
the dark side of the tensions that bind and repel the sexes. The quintet's eclectic, amorphous sound--roaring
one minute, soaring the next--is given to the kind of dynamic shifts in style that cause crowds to take notice.

http://www.tigertigerrocks.com/press.html
"Cut Them Where they Bleed" LP http://tigertigeratl.bandcamp.com/


BABES
(NOLA's newest and best uptown garage sensation!!!)
https://www.facebook.com/pages/Babes/239879996097155?ref=stream

plus Atlanta native SUZY Q on the Wheels of Steel!!!

$8 in Advance/$10 Day of Show!!!
Doors @ 9PM!