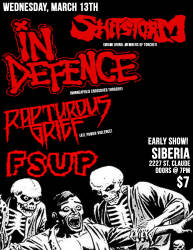 In Defence | Shitstorm (members of Torche!) | Rapturous Grief | Fat Stupid Ugly People
New Orleans, LA
Time: 7:00pm Day: Wednesday Ages: 18+ Ages Price: $7
This Event Has Ended
IN DEFENCE
crossover thrash dudes from minneapolis with songs like "The Police Are Fuckin'Rad!" and "Lessons In Headbanging". they played NOLA with the Casualties not too long ago
http://indefence.bandcamp.com/

SHITSTORM
crushing grindcore with members of sludge outfit TORCHE // from miama, florida
http://miamigrindcore.bandcamp.com/

RAPTUROUS GRIEF
fast powerviolence from atlanta. lyrics are spanish.
http://rapturousgrief.bandcamp.com/

FAT STUPID UGLY PEOPLE
powerviolence from this city, new orleans. hollise murphy fronts.
http://fatstupiduglypeople.bandcamp.com/

thrashing is highly recommended!