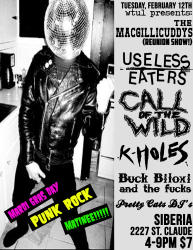 THE MACGILLICUDDYS Reunion! | Useless Eaters | Call of the Wild | K-HOLES | Buck Biloxi and the Fucks
Mardi Gras Day Show!
New Orleans, LA
Time: 4:00pm Day: Tuesday Ages: 18+ Ages Price: $7
This Event Has Ended
K-Holes

The K-Holes speak at once of the mystic and the cosmopolitan, the primal and the urbane, the earthen elements and their synthesized cousins. But unlike their contemporaries, the K-Holes' sound is not of the grinning, gregarious panderer. Nor is it of the bored or at-ease. Rather, it's the sound of escape. Escape from the concrete scrabble of New York, that moneyed parking lot for the cynical and privileged; escape from the vulgar materialism sung from the metropolitan mouth;…
Useless Eaters
Songs by 22 year old Seth Sutton out of Memphis, TN
Useless Eaters on Last.fm
.
User-contributed text is available under the Creative Commons By-SA License and may also be available under the GNU FDL.