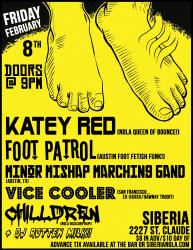 KATEY RED | Foot Patrol | Minor Mishap Marching Band | Vice Cooler | Chilldren | DJ Rotten Milk
New Orleans, LA
Time: 10:00pm Day: Friday Doors: 9:00pm Ages: 18+ Ages Price: $8
This Event Has Ended
Check out this amazing line-up FRIDAY GRAS!!!

KATEY RED
(NOLA Queen of Bounce!!)

FOOT PATROL
(foot fetish FUNK from Austin, TX!!)

MINOR MISHAP MARCHING BAND
(25 piece renegade brass band from Austin, Texas)

VICE COOLER
(latest project from Chris of XBXRX and HAWNAY TROOF)

CHILLDREN
(NOLA dick-core rap sensations!)

plus DJ ROTTEN MILK will be holding it down before, during, and after the show!!

ONLY $8 in Advance/$10 day of show!
Katey Red
Katey Red Kenyon "Katey Red" Carter became the first trans(TS) rapper to achieve national exposure with a 1999 single, Melpomene Block Party, and a 2000 full-length CD on Take Fo. What is even more remarkable is the fact that Katey is just one of the most visible of several so-called sissy rappers,queer folk who perform raw, gutta bounce for mixed (straight, gay, queer) audiences in clubs and barrooms throughout the city.
Read more about…
Foot Patrol

Foot Patrol is a band that smellebrates the wonders of the foot. Yes, we're talking dogs, gunboats, call them what you will - those sometimes smelly appendages are the subject of Foot Patrol's amorous attentions. TJ Wade, the blind singer and keyboard virtuoso happens to have a strong attraction to feet and if you are inclined to find that odd, consider this:
"In August 2006, AOL released a database of the search terms submitted by their subscribers.…
Minor Mishap Marching Band
BOOTY SHAKIN' BRASS: MINOR MISHAP MARCHING BAND is a 25 piece renegade circus brass band. They are an absurd expression of boisterous pandemonium– Bourbon street meets Budapest.
Minor Mishap Marching Band on Last.fm
.
User-contributed text is available under the Creative Commons By-SA License and may also be available under the GNU FDL.
Vice Cooler
Chilldren
Chilldren is a rap trio of like-minded college celebutantes from New Orleans, LA. The members include MAJA-MYNA, FREAK-QUINCY, and HARMON€¥. Their music has been described as "Babe25 meets Spice Girls meets Satan." Their style is a mash of hip-hop, dub-step, and electro, a genre that the Chilldren describe as "Zimbabwe-core Doo-Wop." Whether on the stage or at the mall, these kids know how to put on a show.
Read more about Chilldren on…