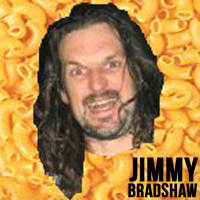 Happy Hour with Jimmy Bradshaw!
New Orleans, LA
Time: 6:00pm Day: Sunday Ages: 18+ Ages Price: FREE
This Event Has Ended
jimmy bradshaw has issues. jimmy has written

more than three songs on each of the following subjects...

1.diarhea

2. other forms of body fluid, paste or gasseous emissions

3. the governments inability to work together to solve the diarhea situation.

jimmy uses the word vagina way to often, especially during prayer.

jimmy watches flash gordon, time bandits and beastmaster every week, simultaniuosly.

jimmy was based out of austin in the 80s and 90s and played in the bands squat thrust,

voltage, sniffy, uss friendship, unicorn magic and many more.

jimmy dreams about a tiny pet hippo that eats jelly beans. jimmy drinks to forget.