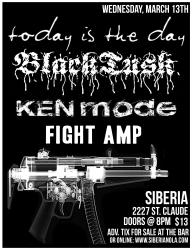 Today Is The Day | Black Tusk | KEN Mode | Fight Amp
New Orleans, LA
Time: 9:00pm Day: Wednesday Doors: 8:00pm Ages: 18+ Ages
This Event Has Ended
Today Is The Day

Today Is The Day is an experimental rock/metal band founded by Steve Austin and Brad Elrod. The band saw its beginnings take root in Nashville, Tennessee in the early 1990s when Today Is The Day released their debut EP, entitled How To Win Friends And Influence People, in 1992. This self-financed release garnered the attention of Amphetamine Reptile Records (AmRep) who signed the band (at this time consisting of Austin on vocals and guitar, Brad Elrod on drums…
Black Tusk
Black Tusk is an American
sludge metal
band from Savannah, Georgia. The band was formed in 2005, when its members were all living on the same street. With the dissolution of Andrew Fidler (guitar, vocals) and Jonathan Athon (bass, vocals)
crust punk
band and James May (drums, vocals) street punk band, Andrew and Athon went down the street to James' house and asked him if he wanted to play with them.
…
KEN mode
KEN mode is a Juno award winning noise rock influenced metallic hardcore band from Winnipeg, Manitoba, Canada that was formed in Sept, 1999. Formed in 1999 by Royal Conservatory of Music trained musicians Jesse Matthewson, Shane Matthewson, CA, and long-time friend Darryl Laxdal (bass), the group released several demos from 1999 to 2003, leading to the release of their debut full length Mongrel on Escape Artist Records.
Read more about Ken Mode on…
Fight Amp
Hailing from NJ, Fight Amp have been chugging along for over 9 years spreading their own brand of genre-bending punk/noise-rock throughout the country and world. Having built a cult following throughout the underground, they have continued to tour and play to both small and large crowds coast to coast as headliners and as support for larger touring bands. Having released three full lengths and countless splits and EPs...
Read more about Fight Amp on…