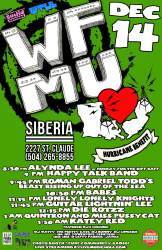 Benefit for WFMU with Quintron and Miss Pussycat | Katey Red | Happy Talk Band | Die Rotzz | Guitar Litenin' Lee and the Thunder Band | The Lonely Lonely Knights | Babes | Roman Gabriel Todd's Beast Rising Up Out of the Sea | Alynda Lee | + every DJ in town
New Orleans, LA
Time: 8:00pm Day: Friday Ages: 18+ Ages Price: $10
This Event Has Ended
WWOZ And Euclid Records Benefit for Hurricane Sandy

damaged listener-supported WFMU radio from NY/NJ.

www.wfmu.org


***

Superstorm Sandy was less-than-kind to what has been called by many as "the best radio station in the country."

Their situation as reported on their own website: "We are fortunate to have avoided flooding, and everyone is safe (though many DJs suffered personal damage and dislocation), but the financial realities of canceling our annual Record Fair on top of the substantial electrical damage the storm brought upon our equipment has forced us to beg for your help immediately"

While regularly featuring New Orleans/Louisiana-based artists both recorded and live-in-studio, they are also an invaluable resource for the American musical landscape. If you haven't yet taken the time to listen or trawl through their enormous archives, we recommend you do so at http://www.wfmu.org

***

"WFMU-FM is a listener-supported, non-commercial radio station broadcasting at 91.1 Mhz FM in Jersey City, NJ, right across the Hudson from lower Manhattan. It is currently the longest running freeform radio station in the United States.

WFMU's programming ranges from flat-out uncategorizable strangeness to rock and roll, experimental music, 78 RPM Records, jazz, psychedelia, hip-hop, electronica, hand-cranked wax cylinders, punk rock, gospel, exotica, R&B, radio improvisation, cooking instructions, classic radio airchecks, found sound, dopey call-in shows, interviews with obscure radio personalities and notable science-world luminaries, spoken word collages, Andrew Lloyd Webber soundtracks in languages other than English as well as Country and western music.

All of the station's programming is controlled by individual DJs and is not beholden to any type of station-wide playlist or rotation schedule. Experimentation, spontaneity and humor are among the station's most frequently noted distinguishing traits. WFMU does not belong to any existing public radio network, and close to 100% of its programming originates at the station."

***

BACKLINE for the ARTISTS provided by the courteous folks at TRUE SOUTH ARTIST SERVICES: http://www.truesouthnola.com

ALSO featured DJ'S for the EVENING include: DJ MATTY from MOD DANCE PARTY and EVERYWHERE, THE PRETTY CATS,

BUNNY from FUR AND LACE / MANIC MONDAYS, LINGERIE from FUR AND LACE / CANDY SHACK,

POWERPOPE, ANDY from DIE ROTZZ, EUCLID RECORDS' D LEFTY PARKER and JAMES.